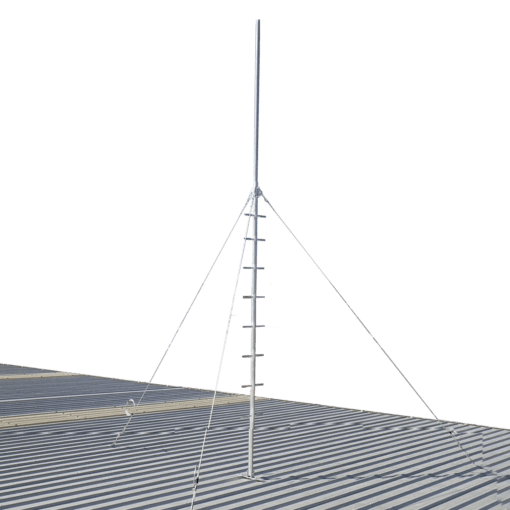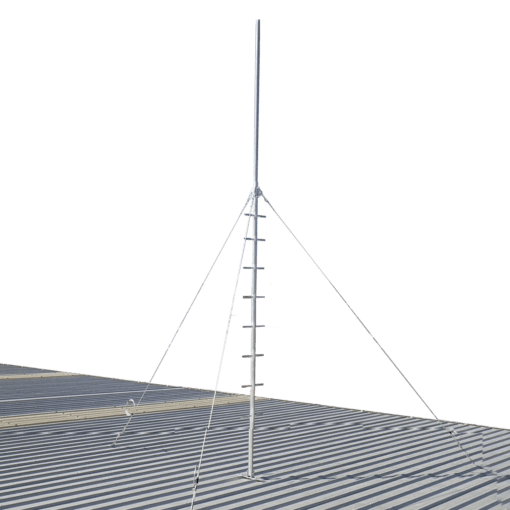 Blackhawk Climbable Roof Masts, 5M, 50mm Diameter
Introducing the Blackhawk range of roof masts. To help our valued network of Australia-wide installers, we've introduced a range of heavy duty roof masts to complement the standard types that you're using on your jobs. Blackhawk's range of masts are ultra heavy duty and built tough for the Australian environment.
Description
This climbable guyed steel roof mast meets the challenge for a medium height while maintaining accessibility, allowing antenna systems to be aligned with ease, or more equipment added post-installation. Masts options are available in heights from 4.0 m to 6.0 m.
Climbable foot-pegs to three metres
Five metre total height, two section design
Galvanised 48 mm (OD) pole. (60 mm available on request)
Rotatable top section with optional mast heads
Guyed at the three metre mark for exceptional stability
3 Guys to a standard tower.
100% Australian designed & manufactured
The clever split two-section design allows the top section to be rotatable, permitting azimuthal adjustments post-installation, and also completely replaceable with a custom mast head such as a cluster or sector mounting frame. Foot pegs are fully welded galvanised steel, climbable up to the three metre mark (first section) to access any equipment mounted even at the five metre mark.
50mm roof masts come into play when you need to install high gain or heavy antennas, where the standard 25mm roof masts won't support the load. Many wireless equipment vendors also require their radios to be attached to masts a minimum 35mm in diameter to ensure engineering wind load calculations are valid.
| | |
| --- | --- |
| Weight | from 18 kg |
| Steel Type + Guys | Galvanised Guyed – 3 Guys, Stainless Guyed – 3 Guys, Gavlanised Guyed – 4 Guys |